Softball Sign-Up Information...Any 6th, 7th, or 8th grade student who is interested is playing softball this year, please sign up on the sheet outside of the large gym/lockers. Tryouts will begin on Wednesday, the 6th. Please bring a glove, plastic cleats or tennis shoes, and appropriate dress. All interested players will meet in the small gym at 3:00 on Wednesday before we head out to the fields. Contact Mr. Cleven (girls) or Mr. Kasprowicz (boys) if you have questions.
Thank you to Asst. Fire Chief Kris Nissila, EMT Heather Biliki, Lt. Timmy O'Brien, Paramedic Mike Nikolai, Nurse Jamie Peterson, and District Nurse Erica Nissila for volunteering their time to put on a Safety Fair for our staff on Thursday! Staff learned how to use the new LifeVacs, received a refresher on AEDs and CPR, and went over how to stop major bleeding and administer medication if needed! Special thanks to Mrs. Pulk for organizing this for us!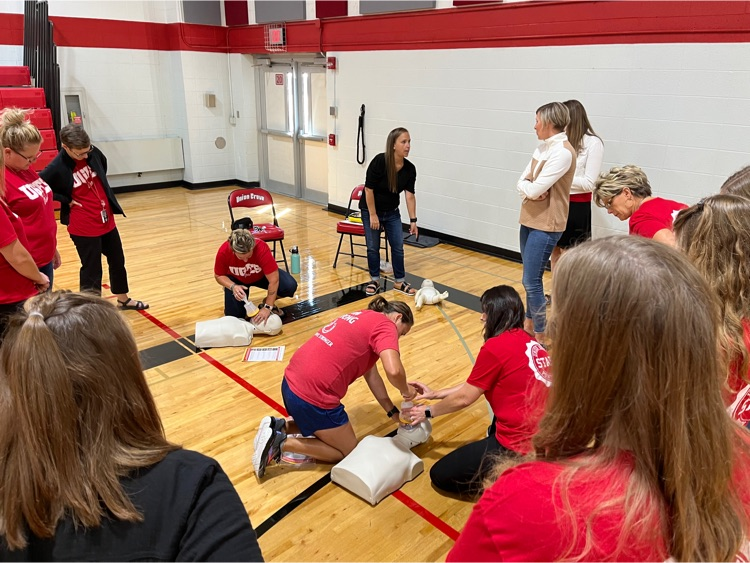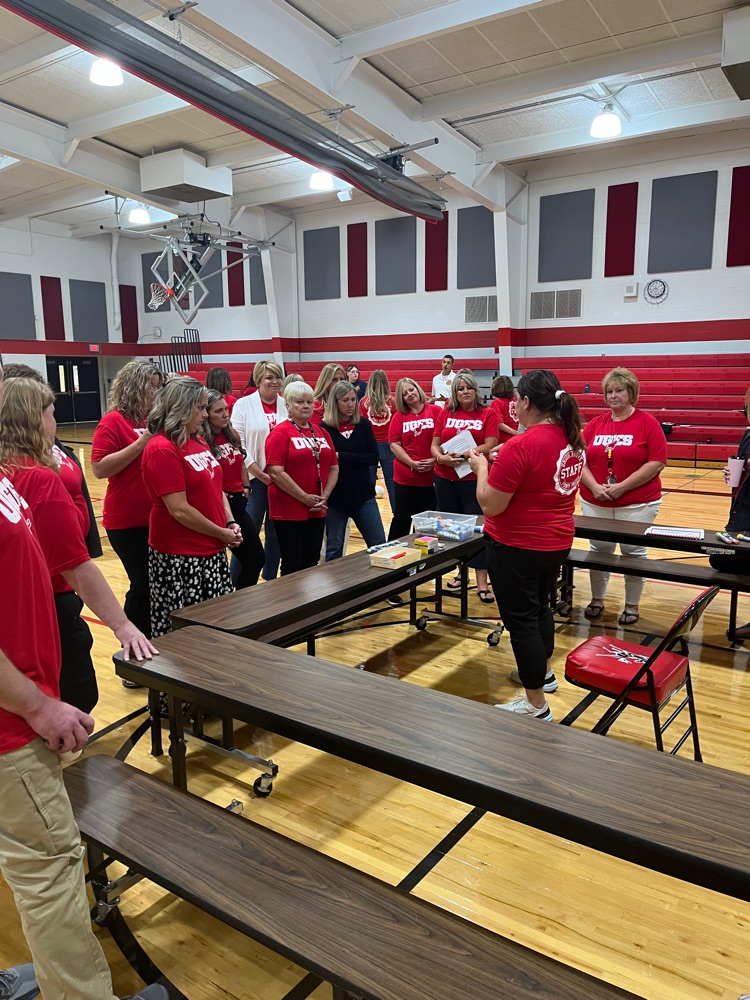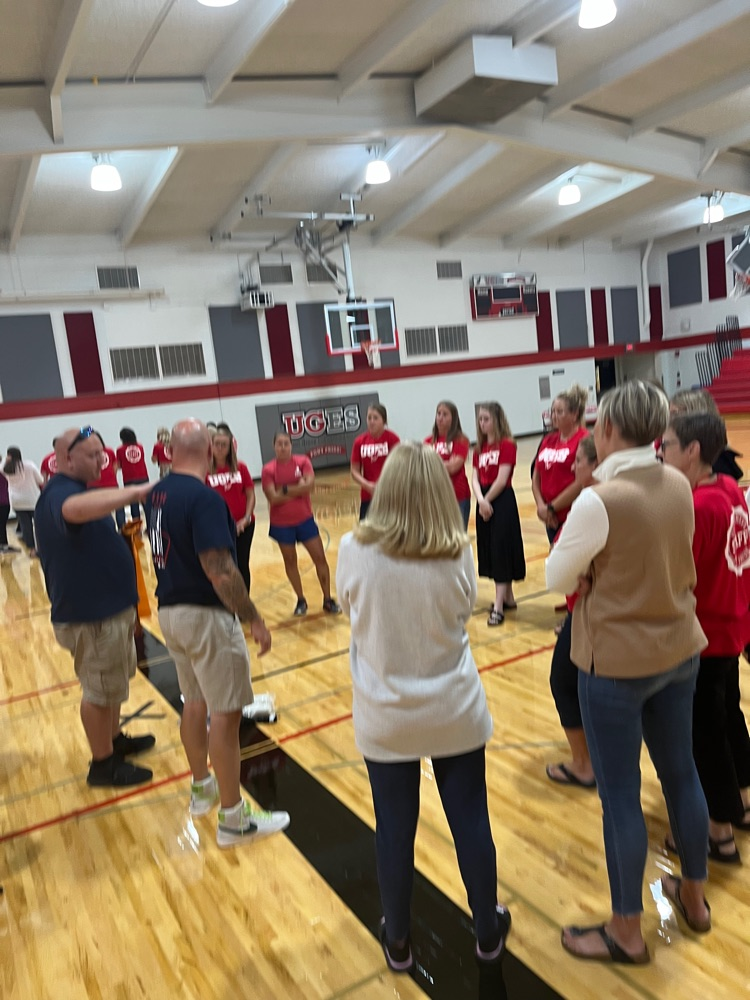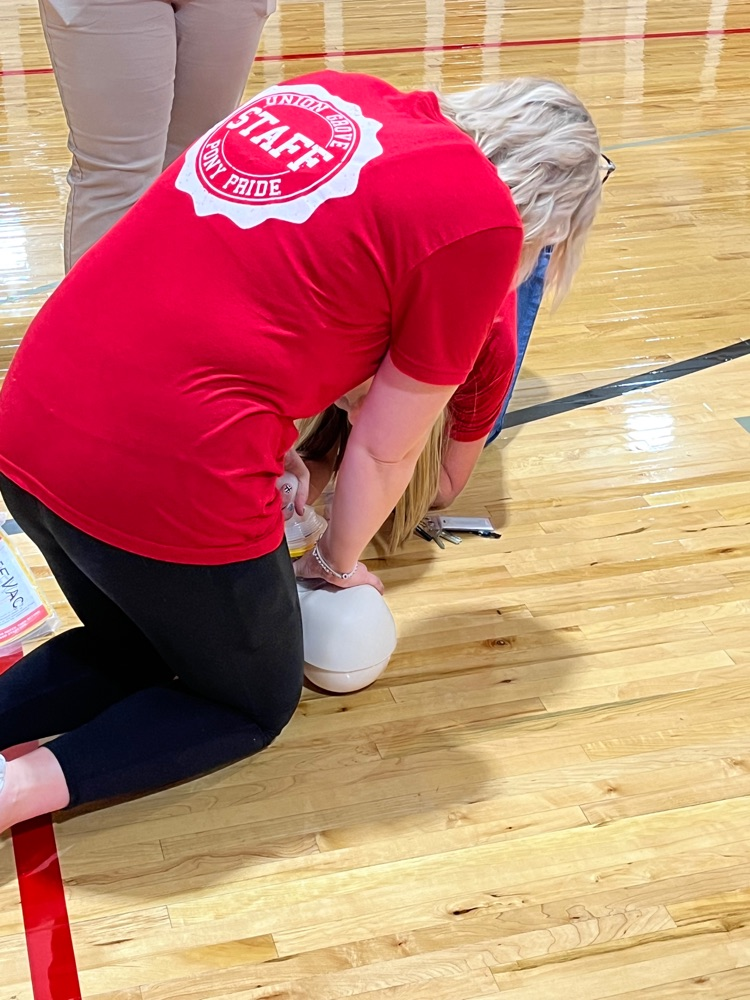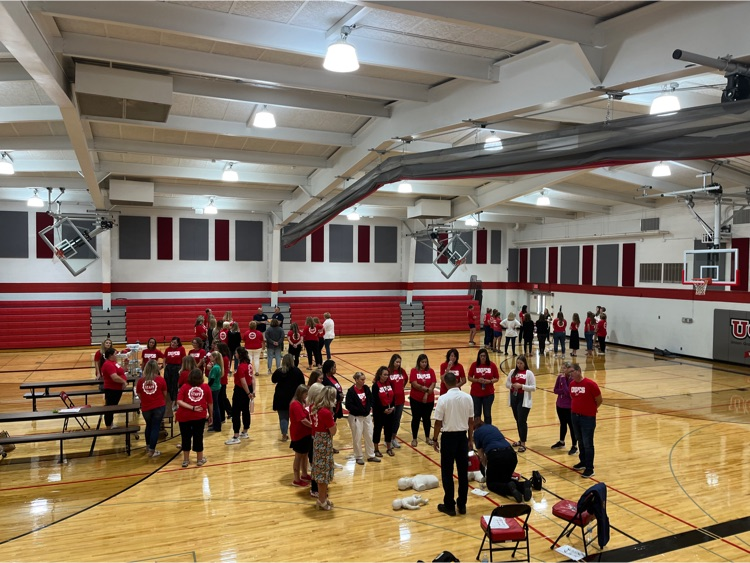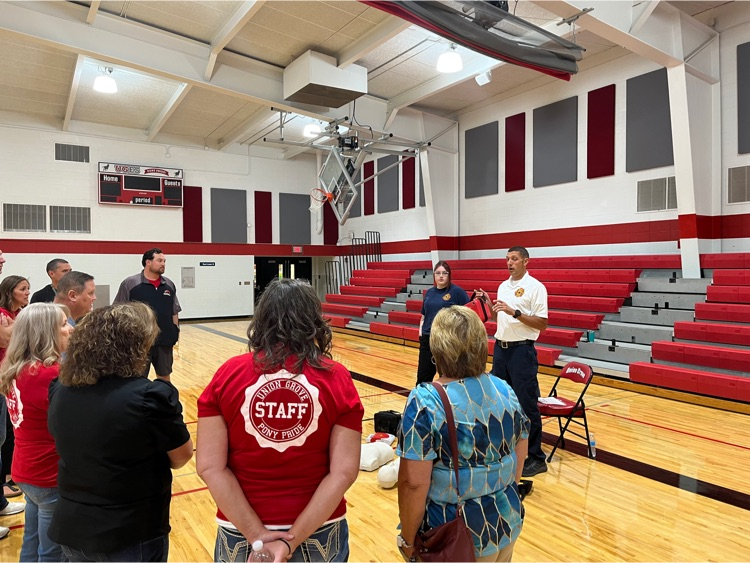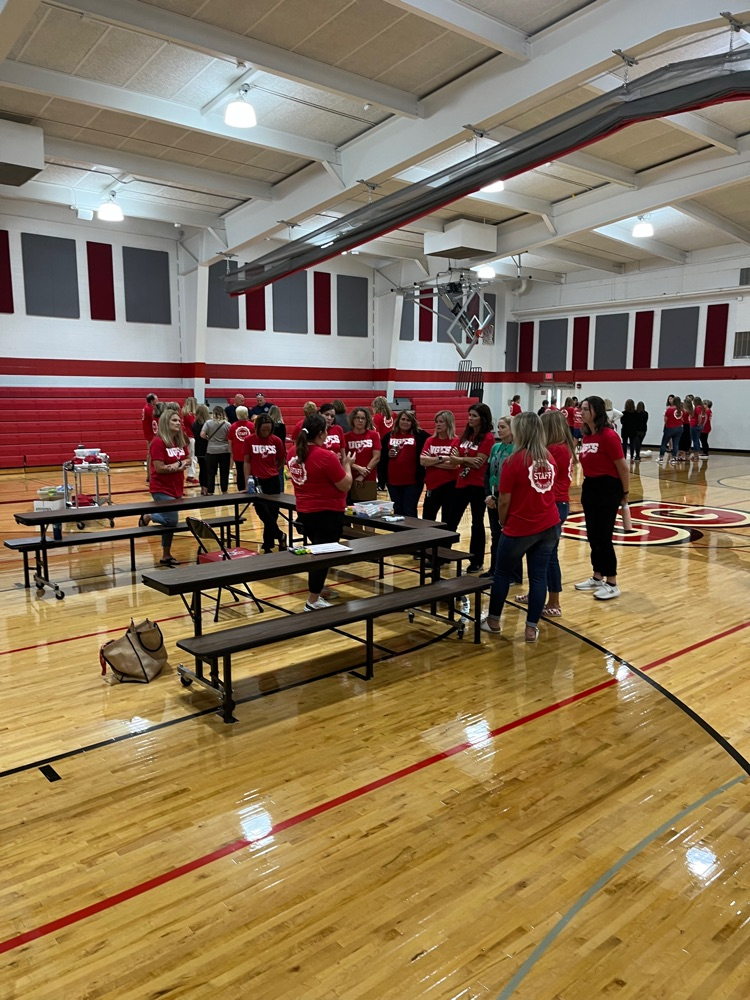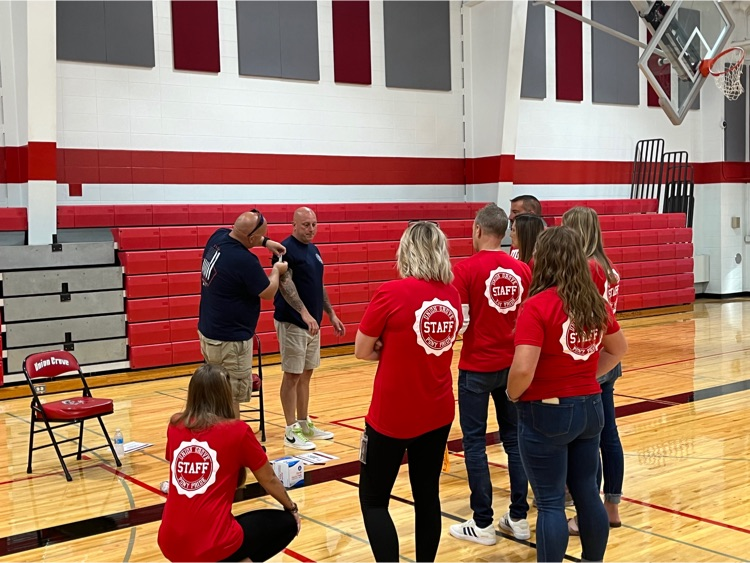 Good afternoon! This is Tom Hansen, Principal at Union Grove Elementary School, all of us here at UGES are looking forward to welcoming our students back for the 2023-24 school year starting with our Open House today from 4:30 to 6:30. Please allow for extra time for your visit with us tonight as we are continuing to experience slow downs and closures due to the construction on Milldrum st.. More specifically I want to highlight that until further notice 17th Ave. has been closed between Milldrum and New St.. . Although an inconvenience, this is allowing for the completion of important work necessary to finish sidewalks that get us one step closer to providing appropriate student access to UGES on the first day of school. The good news is that both of our parking lots are open! This includes our main lot on Milldrum as well as our south lot directly off of 18th ave! Additional handicapped parking is marked and available on the East side of the building which is accessible through our south lot by the ball diamonds. Finally, I will be providing more details on pick and drop off procedures along with construction updates on Sunday, Sept. 3rd! Looking forward to seeing you all soon!

Mad Science is Back! This is a fun, hands-on after school program for K-5th graders that covers a wide range of science topics. Registration information is available in the Main Office. An on-line registration link will also be available in the Daily Express which will be posted on the UGES website beginning Sept. 5th.

A big thank you to Community State Bank for stopping by UGES to share some ice cream treats during staff training!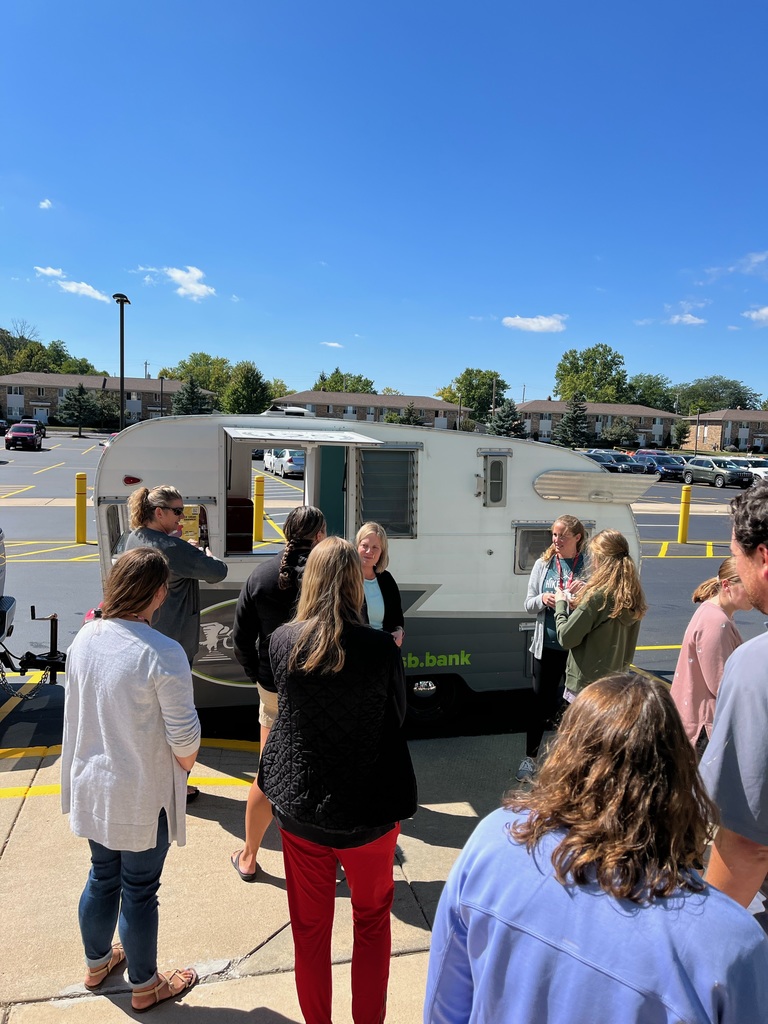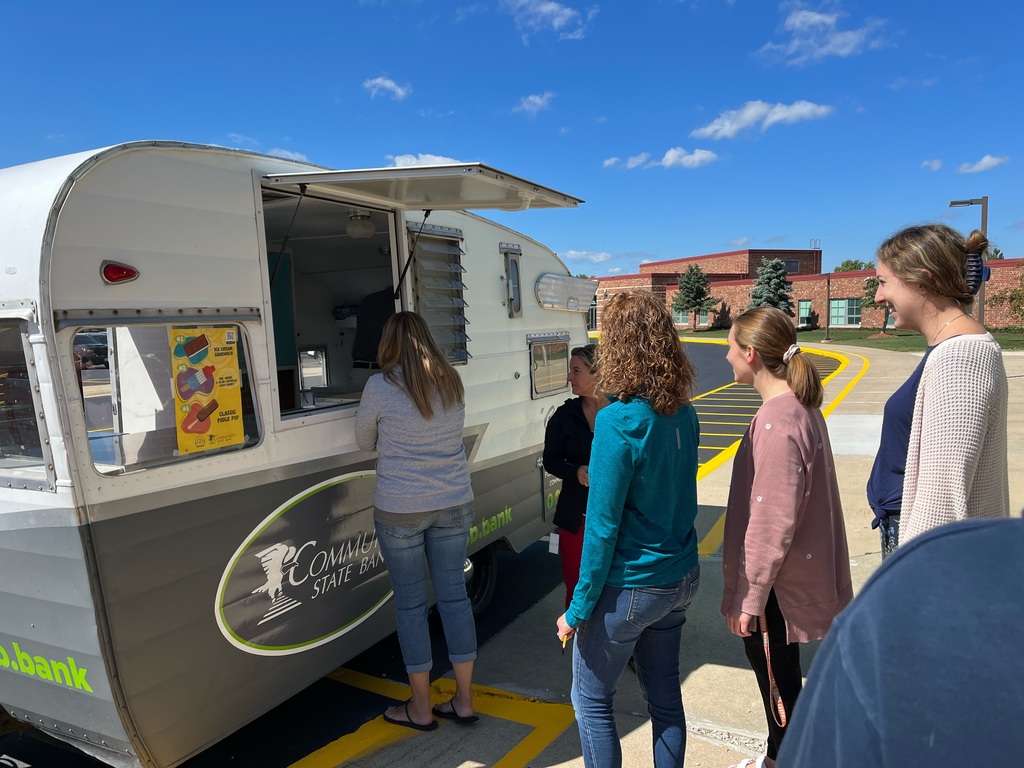 The Administrative team had so much fun preparing breakfast to welcome back the staff this week!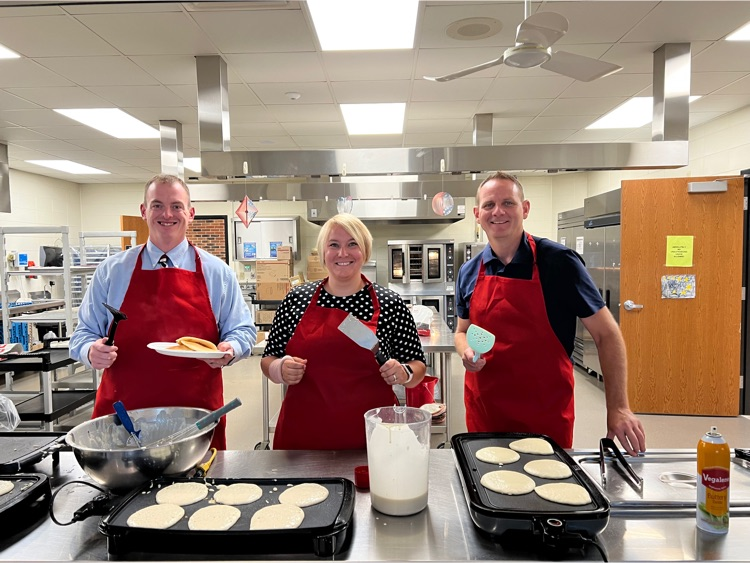 We welcomed our new staff yesterday for orientation! This group brings a ton of experience to us and we are excited to have them be a part of our community! Welcome to the family!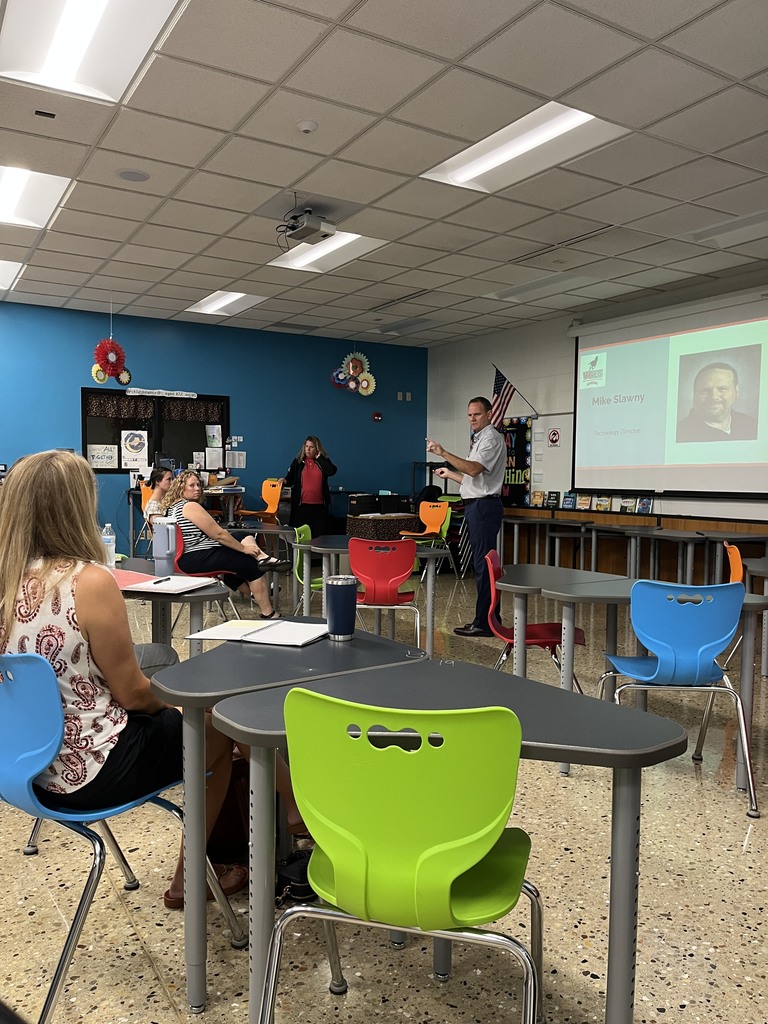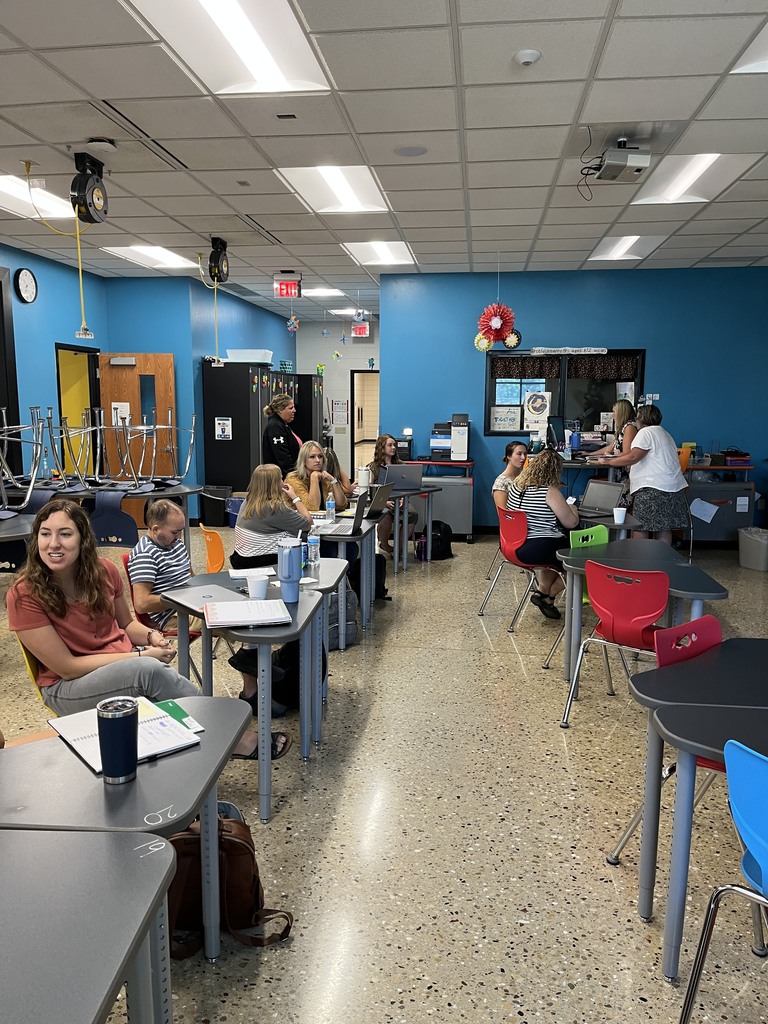 This week we welcome Ms. Clark and Ms. Gonsky to UGES! #ponypride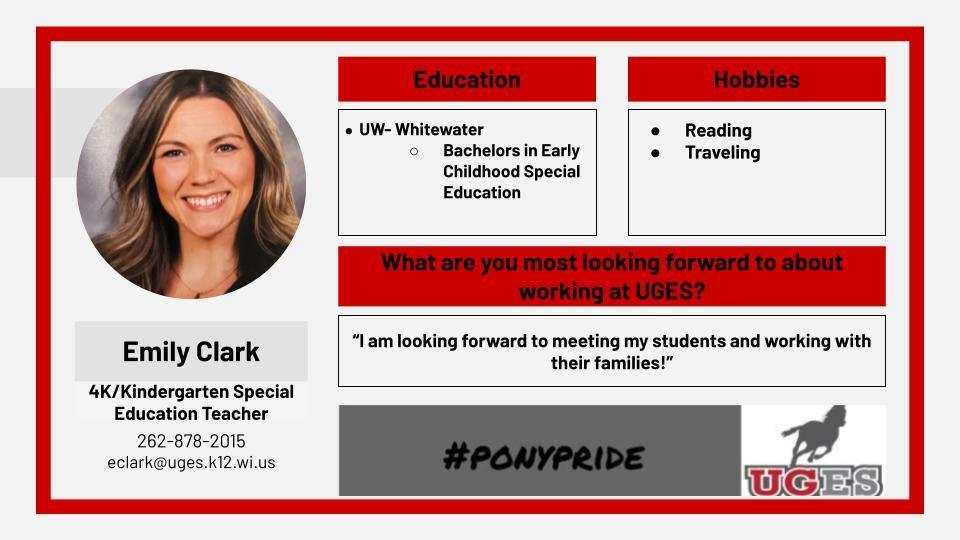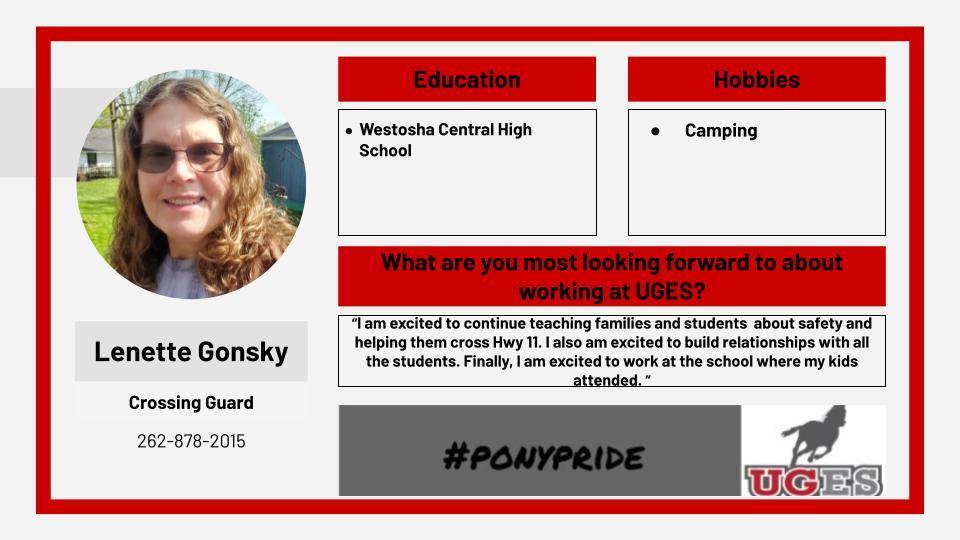 Good Evening UGES students and parents! We look forward to seeing you on Wednesday, August 16th for our upcoming picture day. Students and parents may arrive anytime between 11:00 am and 7:00 pm to have your students photo taken, drop off any medications and pay fees. Please enter the building through the main entrance at door number #2. Prior to your visit take a look at our school website for updated maps regarding building access and parking as we continue to experience road closures associated with the Milldrum St. road project. We look forward to seeing all of you this Wednesday for Picture day. Enjoy the rest of your evening!
This week we welcome Ms. Maurice, Ms. Heifner, and Ms. Hagemann to UGES! Click on the images below to learn more about them! PS- Just a reminder our School Picture Day is Wednesday from 11 am-7 pm! Hope to see you there! #ponypride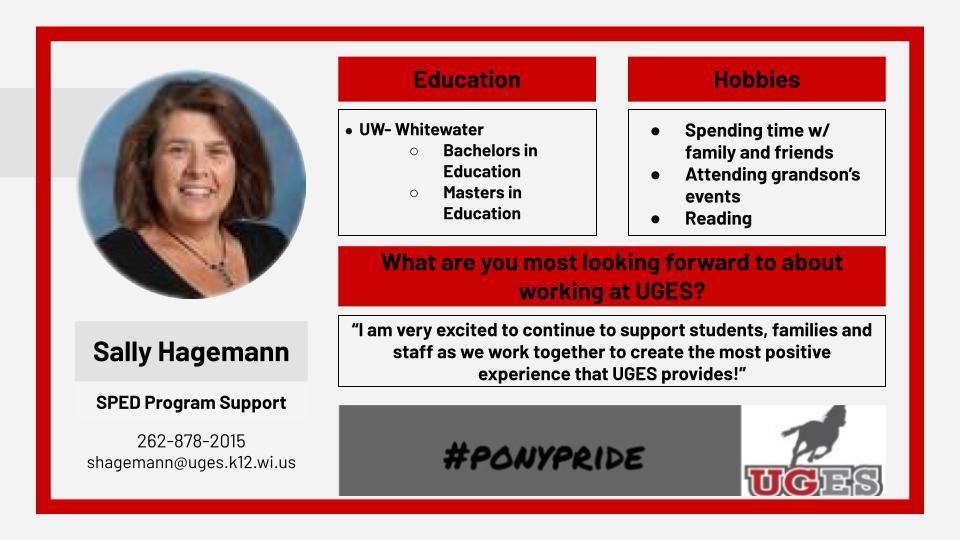 UGES is looking for a fantastic Early Childhood Special Education Teacher. Scan QR code to learn more about the position and to apply.

This week we welcome Ms. Runkel-Seewald, Ms. Miller, and Ms. Fliess to UGES! Click on the images below to learn more about them! #ponypride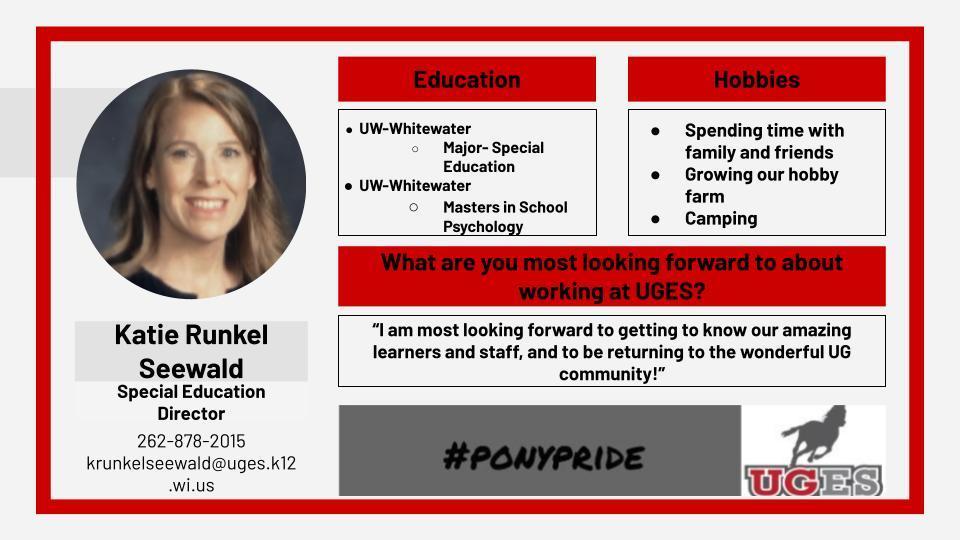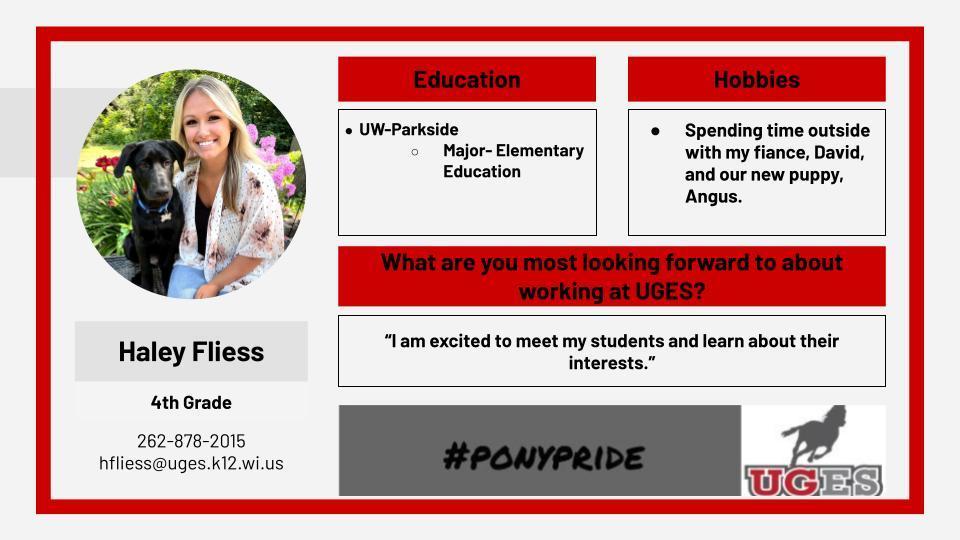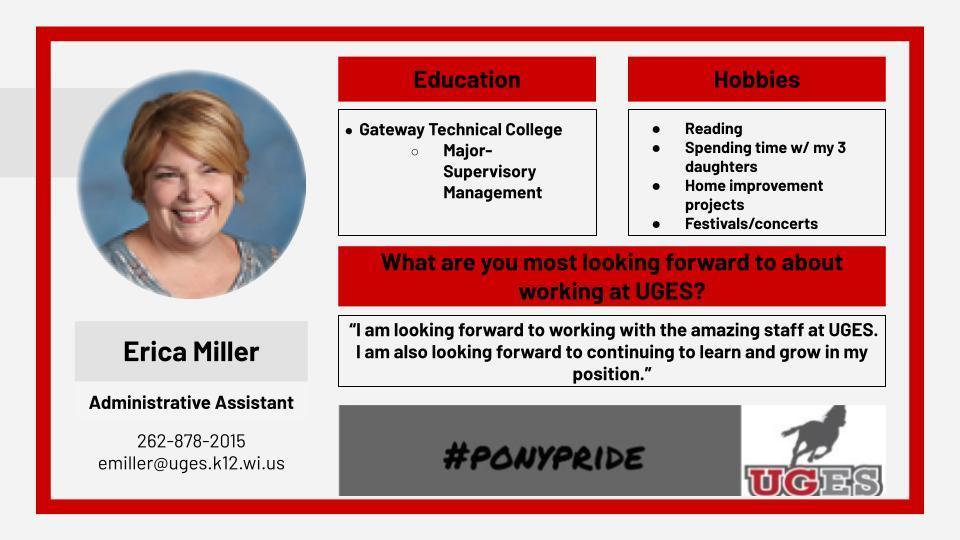 Well, in just over a month students and staff will be back at UGES to begin another great school year! We have some new faces joining our staff this year and we wanted to take some time to introduce them to you all! We will be posting some "Get to Know You" information from our new staff starting today and in the coming weeks leading up to the start of the school year! This week we want to introduce you to Ms. Knab, Ms. Dunklau, and Mr. Sams! #ponypride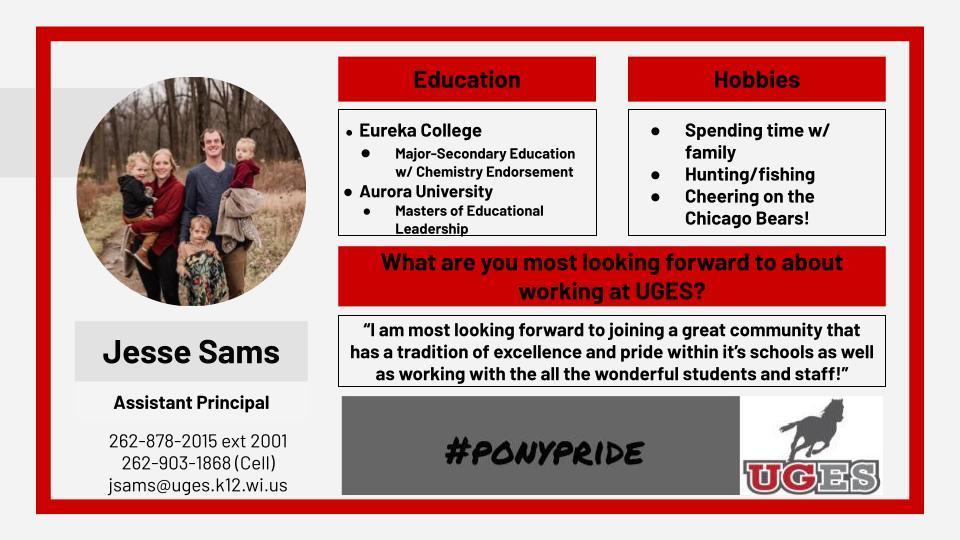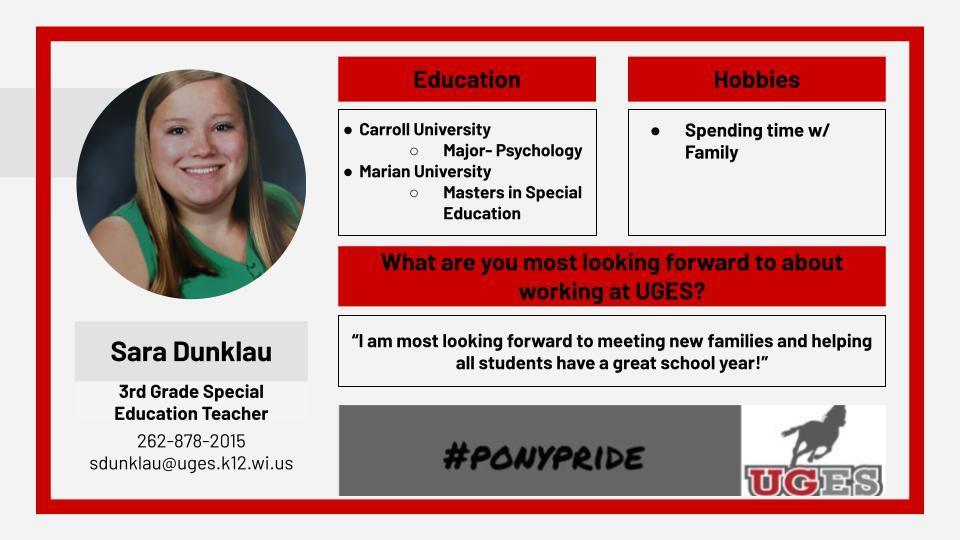 UGES is currenlty seeking individuals willing to serve in a substitute role as a crossing guard before or after school. If you are interested in filling in occassionally in this paid role please reach out to Tom Hansen at 262-878-2015 or via email at
thansen@uges.k12.wi.us
to interview and get signed up!
Mark your calendars for these important dates! Returning Student Registration Closes July 31st Please login to your Skyward Family Access account to complete if you have not already done so. August 16th 11:00-7:00 Picture Day/Fee payments with cash or check/Health Forms may be turned in. August 31st-Open House 4:30-6:30 September 5th-1st Day of School September 14th-Picture Retake Day during the school day
Returning Student Registration is now open! Please complete it by July 31, 2023! Any new students should register as soon as possible.
The water issue we were experiecing this morning has been resolved! Our regular summer office hours of Monday-Thursday from 7-3 will resume tomorrow. Summer school will also be back in session Tuesday, June 27th. We thank you for your patience and flexibility as the Milldrum St. construction project moves forward! Have a great day!
Summer school is canceled for today due to a water main break on our Mildrum street construction project. We will let you know when this problem has been fixed and our building is open again. Again, there is no Summer school today Monday, June 26. Thank you.
During summer school hours, please be advised that our playground is closed for general public use. Summer school session is Monday - Thursday, June 5th - June 29th from 7:30 - 11:30. All visitors are welcome to enjoy the playground anytime outside of our summer school class hours. Thank you in advance for your cooperation and understanding!